Web-Companion "Essential EU Law in Charts"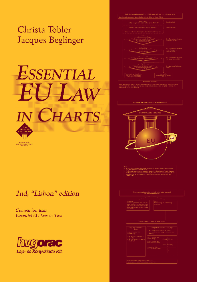 Details...
Dear Reader of "
Essential EU Law in Charts, 3rd edition, 2014
". Please take note of the following updates and corrigenda:
The box in the 6th row, entitled "Proposal for a Directive on antitrust damages (2013)" must read:
_ Directive 2014/104 on antitrust damages _

Double aim:
• Optimising the interaction between public and private enforcement;
• Ensuring the effective exercise of the victims' right to full compensation.

Some important specific elements:
• Disclosure regime vis-à-vis competition authorities, aiming to ensure a minimum level of effective access to the evidence needed by claimants and / or defendants, though to the exclusion of leniency statements and settlement submissions;
• A final decision of an NCA or a court finding an infringement of EU competition law cannot be called into question in a damages action relating to the same infringement (i.e. it can be used as prima facie evidence in a damages action).

Generally, the Member States must observe the principles of equivalence and effectiveness (see Chart 12/3).