Web-Companion "Essential EU Law in Charts"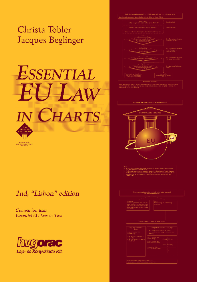 Details...
Dear Reader of "Essential EU Law in Charts, 2nd Lisbon edition, 2010". Please take note of the following updates and corrigenda:
The European Commission has renewed the Block Exemption Regulation on vertical restraints. Therefore replace the full page 230 with the replacement chart "rectified Chart 9|17"
The box in the 3rd row, entitled "Terms of the Regulation, Arts. 2-8" must read:
Terms of the Regulation, Arts. 2-8

In principle, everything that is not prohibited (i.e. hardcore restrictions, excluded restrictions) is allowed, if:

• The _ market shares of both the supplier and _ the buyer in their respective relevant markets do not exceed 30%;

• In the case of associations: if no individual member of the association, together with its connected undertakings, has a total annual turnover exceeding EUR 50 million.

In cases above the thresholds, individual exemption may be possible under Art. 101(3) TFEU; see Chart 9/18.