Web-Companion "Essential EU Law in Charts"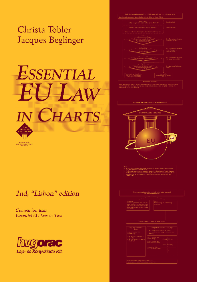 Details...
Dear Reader of "Essential EU Law in Charts, 2nd Lisbon edition, 2010". Please take note of the following updates and corrigenda:
The title of the third box  entitled "Wider scope of free movement law:" should read:
Rights and duties, Art. 20(2) TFEU
EU citizens enjoy the rights conferred on them by the Treaties and are also subject to the duties imposed by
the Treaties.
Regarding the box entitled "Political rights" (bottom, in the middle), first bullet point, Parliament and the Council adopted Regulation 211/2011.
Accordingly the box at the bottom in the middle must read as follows:
• Art. 11 TEU, citizens' initiative: right of not less than 1 million citizens of a significant number of Member States to invite the Commission to submit proposals for legal acts. Procedures and conditions: Art. 24 TFEU, Regulation 211/2011/EU.
• Arts. 20(2)(b) and 22 TFEU: right of citizens to both vote and stand in communal elections in the host Member State and in elections to the EP; e.g. Commission v Belgium (1998).
• Arts. 20(2)(d) and 24 TFEU: making petitions to the EP, applications to the Ombuds- man and writing to EU institutions, bodies, offices or agencies.