Web-Companion "Essential EU Law in Charts"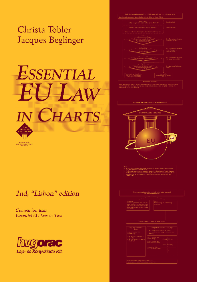 Details...
Dear Reader of "Essential EU Law in Charts, 2nd Lisbon edition, 2010". Please take note of the following updates and corrigenda:
The box marked "Jurisdiction" should read:
Actions and proceedings according to Art. 256 TFEU et seq., see Chapter 12.

• In principle, no jurisdiction in the field of CFSP, Art. 275 TFEU.

• No jurisdiction to review the validity of proportionality of operations carried out by the law enforcement services of a Member State or the exercise of Member State responsibilities with regard to the maintenance or law and order and the safeguarding of internal security, Art. 276 TFEU.