Web-Companion "Essential EU Law in Charts" 4th ed 2018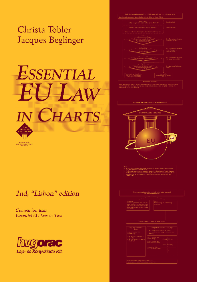 Details...
Dear Reader of "
Essential EU Law in Charts, 4th edition, 2018
". Please take note of the following updates and corrigenda:
The box in the 5th row on the right hand side must read:
 

"Motor of integration": legislative planning, near- monopoly on the right of initiative;
Implementing and delegated legislative powers; see Chapter 5;
"Watchdog"; e.g. competition law, infringement procedures against Member States; see Chapter 9, Chapter 12;
Negotiations of treaties with third countries, including on accession (see Chart 2/26), and of withdrawal agreements (see Chart 2/28);
Administration of EU funds.