Web-Companion "Essential EU Law in Charts" 4th ed 2018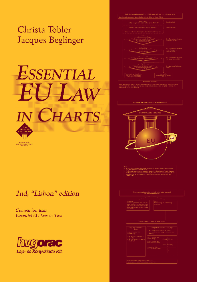 Details...
Dear Reader of "
Essential EU Law in Charts, 4th edition, 2018
". Please take note of the following updates and corrigenda:
The box in the 4th row on the right hand side must read:
Not regulated in Art. 50 TEU but referred to in Art. 50(2) TEU: "To be taken account of" when negotiating and concluding the withdrawal agreement _

There is no guarantee under Art. 50 TEU of a suitable alternative arrangement.
In principle the future framework for the relationship of the State in question with the Union is to be defined separately, possibly (but not necessarily) through an agreement.

See Chart 2/30
The box in the 6th row at the very bottom entitled "Note:" must read:
Note:
Following the advisory referendum on EU membership of 23 June 2016, the UK became the first ever Member State to withdraw ("Brexit"); see Chart 2/28.