Updates & Corrigenda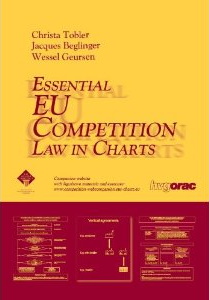 Details...
Dear Reader of "
Essential EU Competition Law in Charts, 2011 Edition
". Please take note of the following updates and corrigenda:
The box in the 3rd row, on the left hand side, entitled "Hearing", must read:
Hearing

Art. 27 of Regulation 1/2003/EC, Arts. 11-14 of Regulation 773/2004/EC

• Upon the request of a party in the written reply to the statement of objection or of a third party that can show sufficient interest;
• Conducted by the hearing officer who ensures respect for the rights of defence, Decision 2011/695/EU.
The box in the 2nd last row, entitled "Possibility of judicial review", must read:
Possibility of judicial review

• Action for annulment to the General Court under Art. 263 TFEU; see Chart B18.
• Appeal on points of law to the Court of Justice; see Chart B20.

Note: The judicial review provided is compatible with the requirements of the principle of effective judicial protection by EU Courts as required by Art. 6 ECHR and the Charter of Fundamental Rights; KME (2011), which in fact is a follow-up case on the ECHR case Menarini (2011).