Web-Companion "Essential EU Law in Charts - Reprints"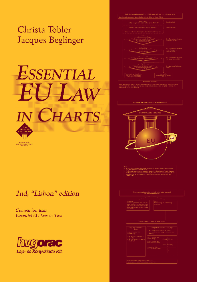 Details...
Dear Reader of "Essential EU Law in Charts, 2nd Lisbon edition, 2010, <...> Reprint".
Please take note of the following updates and corrigenda. Please consider that this book has seen several reprints, which brought about minor updates with each reprint. It may  therefore occur that updates or corrigenda are listed which may already have been taken care of in your printed copy.
The box in the 3rd row, entitled "Terms of the Regulation, Arts. 2-8" must read:
Terms of the Regulation, Arts. 2-8

In principle, everything that is not prohibited (i.e. hardcore restrictions, excluded restrictions) is allowed, if:

• The _ market shares of both the supplier and _ the buyer in their respective relevant markets do not exceed 30%;

• In the case of associations: if no individual member of the association, together with its connected undertakings, has a total annual turnover exceeding EUR 50 million.

In cases above the thresholds, individual exemption may be possible under Art. 101(3) TFEU; see Chart 9/18.