Web-Companion "Essential EU Law in Charts"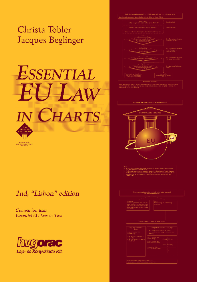 Details...
Dear Reader of "
Essential EU Law in Charts, 3rd edition, 2014
". Please take note of the following updates and corrigenda:
The box in the 3rd row entitled "College of Commissioners" must read:
College of Commissioners

• 1 Commissioner per Member State (see Chart 3/3), including the President and the HR FASP who is one of the Vice-Presidents (see Chart 3/9);
• Must be citizens of EU Member States.

Entire body must be approved, together with the president, by the European Parliament, which can reject candidates. Formal election by the European Council for a five year term.

In the 2014-2019 Commission, there are 7 Vice Presidents, including a First Vice President. The Commissioners work in project teams, each of which is led by a Vice President.