Web-Companion "Essential EU Law in Charts" 4th ed 2018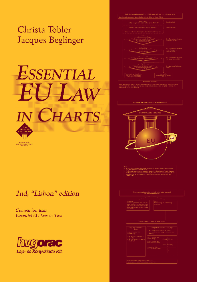 Details...
Dear Reader of "
Essential EU Law in Charts, 4th edition, 2018
". Please take note of the following updates and corrigenda:
Page:
126
Chart Number:
6/11
Chart Title:
Effect of general principles and the CFR in favour of individuals
The box in the 5th row on  the right hand side must read:
Duty of the Member States to compensate for damage caused by national law infringing EU law

No explicit treaty provision, based on case law: Francovich (1991), Popławski (2019)

See Chart 12/32
The box in the 6th row (at the bottom) on the left hand side must read:
Extent in terms of substance:

Goes very far: requires the national court to consider whole body of rules of national law and to apply methods of interpretation that are recognised by those rules in order to interpret it, so far as possible, in the light of the wording and the purpose of the directive concerned in order to achieve the result sought by the directive; Pfeiffer (2004), Ajos (2016), Popławski (2019).
Limit: no such obligation if it would lead to the imposition on an individual of an obligation under an unimplemented directive or, more specifically, if it would determine or aggravate liability under criminal law; Arcaro (1996), Popławski (2019).